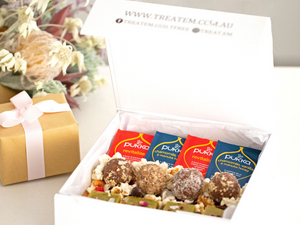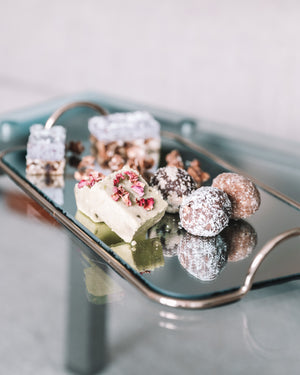 AUS's ONLY HEALTHY DESSERT BOX
Dessert Box Delivery - Sydney
AUS'S ONLY HEALTHY DESSERT BOX
Spoil your Loved Ones
Explore our entire range
Sydney's Favourite Guilt Free Dessert Box
❌ No refined or raw sugar 🌱 100% natural ingredients 🥛 Dairy and lactose free
🚚 Next day, contactless delivery
The only place where delicious, indulgent desserts meets guilt free
(sprinkled with love and fun!)

Every gift is made with natural ingredients, locally sourced and handmade.
Dietary Restrictions and Preferences
At Treat 'Em, a dessert shop, we understand that everyone has different dietary needs and preferences. That's why we offer a range of healthy dessert boxes that cater to various dietary restrictions.
Soy Free
A range of soy-free healthy desserts for those who are sensitive to soy or avoid it altogether. 
Just as delicious as our regular desserts. No  compromise on taste.
Lactose Free
Perfect for those who are lactose intolerant or prefer to avoid dairy products in their regular diet. 
Made with high-quality, dairy-free ingredients - A delicious & healthy alternative.
Dairy Free
Desserts that are free from milk ingredients, - suitable for those with a milk allergy or intolerance.
Made with the same care and attention to detail as all of our dessert boxes.
Vegan Friendly
Vegan-friendly desserts made without any animal products, making them suitable for a vegan diet. Highest quality, plant-based ingredients in our vegan desserts for indulgence
Gluten Free
A range of delicious gluten-free desserts for those with gluten intolerance or celiac disease. Made with gluten-free ingredients and prepared in a dedicated gluten-free kitchen.
Healthy Treats With Treat 'Em Dessert Box
Indulging in delicious desserts doesn't have to come at the cost of your health, right? With Treat 'Em desserts, you can have your cake and eat it too!
Natural Ingredients
Our desserts are made with 100% natural ingredients without any artificial additives or preservatives.
No Refined or Raw Sugar
Our desserts are sweetened naturally with dates and maple syrup, free from refined or raw sugar, allowing guilt-free indulgence.
Guilt-Free Indulgence
With Treat 'Em, you can satisfy your sweet tooth and maintain a healthy lifestyle with our guilt-free desserts.
So, what are you waiting for? Order dessert box delivery, Sydney and satiate your sweet tooth!
Sweet Sustainability at Treat 'Em
At Treat 'Em, we are committed to reducing our impact on the environment and promoting sustainable practices.
Environmentally Friendly Ingredients
We source our ingredients from local suppliers who share our commitment to sustainability. By choosing ingredients that are grown using environmentally friendly practices, we are able to reduce our carbon footprint and support sustainable agriculture.
Sustainable Packaging
We use eco-friendly packaging materials for all of our desserts. Our packaging is made from recyclable or compostable materials, so you can enjoy your treats without worrying about the impact on the environment.
Frequently Asked Questions
Yes, we understand that people have different dietary needs and preferences. That's why we offer desserts that cater to special dietary needs. Our menu includes options that are lactose-free, dairy-free, vegan-friendly, gluten-free, and soy-free. You can choose desserts that align with your dietary requirements and still enjoy delicious treats.
Currently, we do not offer customisation options for our dessert boxes. However, our dessert boxes are carefully curated to provide a delightful assortment of treats. Each box is filled with a variety of delicious desserts, ensuring a wonderful and indulgent experience.
We accept various payment methods, including credit/debit cards (Visa, Mastercard, American Express), PayPal, and other online payment options. During the checkout process on our website, you will have the option to choose your preferred payment method.
We provide next-day, contactless dessert box delivery in Sydney. When placing your order, you can select the delivery date and address. Please note that delivery charges may apply, and we have specific delivery zones within Sydney.
★★★★★

I received the dessert box as a gift, it was delicious!!! I loved the pistachio slice, and the presentation was amazing. Definitely would recommend, and will absolutely gift this to my friends too :)

Erin Lee

Sydney, NSW
★★★★★

I received a surprise delivery to my door today from a friend. Great gift! Beautifully gift boxed and packed. These treats taste amazing. Will be ordering in the future.

Rebecca Fox

Sydney, NSW
★★★★★

These are amazingly presented and a flavor sensation. I'm completely addicted.....🙌🏻🙌🏻 Highly recommended

Nadine

Sydney, NSW
★★★★★

These treats are super delicious! Not only is it so tasty but it's great to know that a nutritionist is also involved in the making of these treats to ensure that they are healthy and nutritious!

Carol Huynh

Sydney, NSW
★★★★★

What an absolutely delicious and creative box. Cannot stress enough just how tasty these treats are - can't wait to get my hands on another box 🙂🤩

Rea Singh

Sydney, NSW
★★★★★

The girls at Treat 'em are so passionate about their product. Its lovely to see. I received my jar of Protein balls today and absolutely loved them. Highly recommend these beautiful tasty treats. When you're in isolation its nice to indulge knowing you're still being healthy. 

Anna Hantzis

Sydney, NSW
★★★★★

Made my day ❤️ beautiful to look at and beautiful to eat 😋

Helen Maree

Sydney, NSW
★★★★★

Ordered the Mother's Day box and it is amazing, both presentation and taste. It's something a bit different and has something for everyone (should mum want to share!)!

Genevieve Robertson

Sydney, NSW
★★★★★

This was the perfect gift for cousin's 21st. She absolutely loved it and from the FaceTime i could see it looked better than advertised on the website. Highly recommend.

Suzanne Briscoe

Sydney, NSW